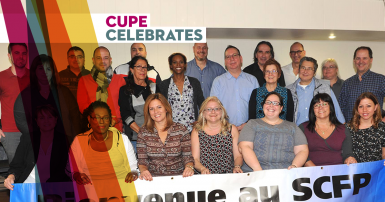 CUPE Quebec finished its recent union affiliation campaign "CUPE, the healthy choice" on a high note.
In the wake of sweeping reforms legislated by the provincial government, the number of local health care and social services centres in the province was reduced from 182 to 34. This upheaval in the network had an enormous impact on workers and the unions that represent them: merged institutions required merged local unions. A union affiliation vote was held from January 30 to February 24 and nearly 200,000 workers in the network voted by mail to choose their new union. CUPE picked up more than 3,000 new members.
One emblematic win was with the category 4 workers in the Montreal-East integrated university and social service centre (CIUSSS). Before the vote, CUPE represented fewer than 10 per cent of the members in this group; after the vote, all 2,400 members in the group are now CUPE members. At the start of voting, CUPE represented about 14,200 members in these institutions; by the end of the voting period, it had nearly 18,000. Of all the unions in the running, CUPE is the only one that received more votes than the number of members it started with. It is also the only union with a net gain in members in three of the four work categories within the network.
"We congratulate all the union activisists who poured so much of themselves into this campaign. In terms of gaining new members, we have finished in first place. Our strength in numbers and diversity of sectors led us to victory," explained Serge Morin, assistant director of CUPE Québec.
"Now we must stand up to the government with renewed vigor. Health care workers will rally together to defend public services and their right to quality of life in the workplace. Health minister Barrette and Premier Couillard will not succeed in dividing us," said Pierre Soucy, president of CUPE's provincial council for social affairs (CPAS).
CUPE's other gains in the vote
On Monday, April 3, CUPE won the vote in category 2 of the integrated university and social service centre (CIUSSS) of Montreal West Island, which has 2,990 members.
On March 29, the 1,691 category 3 members of the CIUSSS of Montreal Centre Sud officially chose CUPE.
On March 23, CUPE won category 3 of the integrated health and social services centre (CISSS) of the Montérégie Ouest, which has 1,039 members.
On March 22, CUPE won the vote in category 2 of the CISSS Bas-Saint-Laurent, about 2,100 members.
On March 21, CUPE won category 2 of the CISSS of Montérégie Ouest, which has 2,327 members.
On March 9, there were two more victories: in category 2 of the CIUSSS of the Estrie-CHUS, which has 4,625 members, as well as in category 3 of the CISSS of Abitibi-Témiscamingue, which has 867 members.