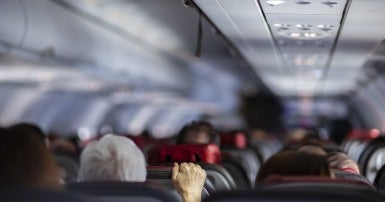 As COVID-19-related safety measures are set to expire this week, CUPE – Canada's flight attendant union – is calling on the federal government to ensure airlines continue providing flight attendants with workplace PPE so that workers remain protected once passenger mask mandates are lifted.
CUPE recently surveyed its 15,000 members in the airline sector on their views respecting ongoing COVID-19 safety measures, and the result was very strong. Many flight attendants believe they are currently well-protected and thousands want to see respiratory protections for flight attendants remain a company-provided option.
"We welcome the federal government's announcement and are thankful our members will no longer have to fulfill the difficult role of 'mask police' on top of their many other duties onboard," said Wesley Lesosky, President of CUPE's Airline Division. "That said, we will also work to ensure airlines respect cabin crew and maintain a supply of high-quality PPE for all our members to use as they see fit."
"There are thousands of workers that expect their employers to protect them, and they expect the regulators to ensure companies are complying with the health and safety laws."
Our experience has shown us that many airlines will seek to return to pre-pandemic practices. They will point to the practices at other airlines and say they need to race to return to normal for the sake of operations or corporate image. But the views of the frontline workers in the airline sector are now very clear: most workers want to keep the ability to wear protective equipment when they feel their health is at risk.
We hope that the lessons from this pandemic will not be so quickly forgotten. We expect regulators to continue to require employers to provide the personal protective equipment that workers need to be safe on the job.