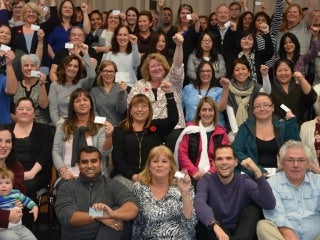 ​Seven candidates with strong progressive backgrounds in labour activism and community involvement have put their names forward to run for the board of directors of Pacific Blue Cross, setting the stage for a critical election at the benefit provider's annual general meeting on December 13.
Nomination packages for the seven candidates were delivered late last week to the offices of Pacific Blue Cross.
In the organizational member category, the candidates are BC Federation of Labour Secretary-Treasurer Aaron Ekman and MoveUp Vice-President Alicia Gallo. In the health care professional member category, the candidates are St. Paul's Hospital general internal medicine specialist Dr. Stéphane Voyer and Royal Columbian Hospital emergency room physician Dr. Sandra Jenneson. The individual member candidates are UNIFOR Local 2200 President Joe Elworthy, BC Teachers' Federation past president Jim Iker, and Hospital Employees' Union Director of Pensions and Benefits Brendan Dick.
"We are grateful to these excellent and highly qualified candidates for putting their names forward to run in this important election," said CUPE BC President Paul Faoro.
"The fact that so many progressive people have expressed interest in running for the board really speaks to the need for change and accountability at Pacific Blue Cross. We hope to see a result on December 13 that signals a new era at PBC, making things better for plan holders and employees alike."
CUPE 1816, representing more than 600 employees at Pacific Blue Cross, and CUPE BC launched a campaign late last month to elect progressive new PBC board members following a protracted labour dispute triggered by demands for concessions.
Last night (Wednesday, November 15) at 8:00, CUPE 1816 President Beth Miller appeared on Vancouver Co-op Radio's "Union Made" program (100.5 FM, online @ http://www.coopradio.org), to talk about the AGM.