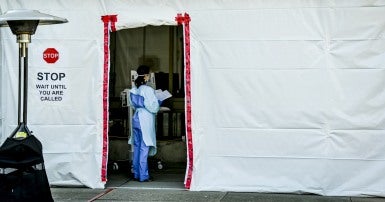 CUPE and two other unions, SEIU Healthcare and NUPGE, have written to the federal government to demand stronger protections for health care workers against the threat of COVID-19. The demand come in light of newly released data from the Canadian Institute for Health Information which shows that over 150,000 health care workers have been infected with COVID-19 since the beginning of the pandemic, and at least 46 have lost their lives to COVID-19.
In a letter to Health Minister Jean-Yves Duclos and Mental Health and Addictions Minister Carolyn Bennett, the three unions are demanding stronger action from the federal government to defend the health and safety of health care workers.
"As the representatives of 435,000 health care workers nationwide, we are calling on your government to take steps to address the systemic occupational health and safety gaps that put health care workers at risk," the letter reads.
In particular, CUPE and our allies are calling for the federal government to prioritize the precautionary principle in response to public health emergencies, which would see governments and employers take every reasonable precaution to protect the health and safety of workers without having to wait for scientific certainty.
CUPE and our allies are also calling on the government to radically improve the way Canada manages and resources personal protective equipment and medical devices, in light of a recent audit that showed Canada was unprepared to respond to the surging needs of provinces and territories when the pandemic first struck.
The letter also calls on the government to make the Canadian Centre for Occupational Health and Safety (CCOHS) responsible for occupational health and safety during public health emergencies rather than the Public Health Agency of Canada (PHAC), noting that PHAC did not follow the precautionary principle and did not have the appropriate expertise or approach to working with workers' representatives during the COVID-19 pandemic.
You can read the full letter here. (English only)