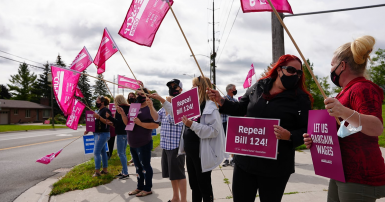 After prioritizing improved staffing levels and quality care throughout negotiations, CUPE 894 has ratified a new two-year collective agreement with Sault Ste. Marie Group Health Centre.
"This newly ratified agreement helps to provide stability in the workforce and improves the working conditions needed to attract and retain staff," said Melinda Genys, CUPE 894 president. The newly ratified agreement means that CUPE 894 members can continue to provide high quality care to over 70,000 residents in the Sault Ste. Marie area. This was a difficult round of bargaining, compounded by the ongoing impacts of the Ford Government's wage restraint legislation. The legislation has hurt both staff morale and the quality of care at the Group Health Centre.
"Staff retention has been a major issue since the start of the pandemic," said Genys, adding that "the collective agreement recognizes the adverse impact of the provincial wage restraint on staffing levels and acknowledges the contributions that our members have made throughout the pandemic."
The newly ratified two-year agreement will provide modest wage increases to help with staff retention. Approximately 65 people have left their jobs at the centre over the past two years, which has increased pressure on remaining staff to respond to patient needs.
With inflation spiking during a time in which many health care workers are still experiencing provincially mandated wage restraint, the union recognizes the need to continue to push the government, including Sault Ste. Marie MPP Ross Romano, for improved wages in future negotiations.