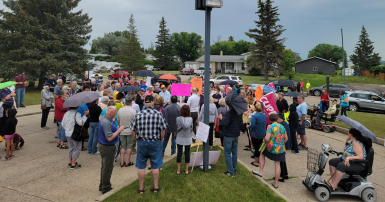 Today CUPE health care workers joined the Kamsack community calling for immediate steps to stop bed closures at the Kamsack Hospital.  As of July 13, 2022, all acute care beds at the Kamsack Hospital have been shut down, and the emergency room will only operate from 8:00 a.m. to 4:00 p.m. until August 31. 
"Our health care system is fraying.  Communities across Saskatchewan no longer have access to reliable health care services, and the provincial government is doing nothing to address the growing concerns," said Bashir Jalloh, president of CUPE 5430.  "The lack of respect from this government is impacting morale, and patients, residents, and clients are feeling the impact."
This morning Canora-Pelly MLA Terry Dennis and Everett Hindley, Minister of Mental Health and Addictions, Seniors, and Rural and Remote Health, toured the facility.
Kamsack Hospital services a large area of the province, including several parks with large populations during the summer months.
"CUPE has been calling on some common-sense solutions to recruitment and retention.  We need market supplements in hard to recruit classifications and communities.  We need a representative workforce strategy to reach out to Indigenous communities.  And we need more permanent, full-time job postings," added Jalloh.
The disruption in Kamsack is just the latest facility to be impacted by chronic understaffing and recruitment and retention issues.
"In recent weeks we have seen bed closures and ER shutdowns in Melville, Spiritwood, Esterhazy, and Broadview, to name a few.  However, not all of these are listed on the Saskatchewan Health Authority (SHA) website," said Jalloh.  "There needs to be more transparency from the SHA about service disruptions and closures and what steps are being taken to address the situation."