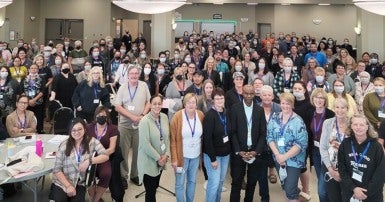 Almost 200 health care workers from across Saskatchewan gathered in Prince Albert for CUPE 5430's annual general meeting.
"Health care providers are facing extraordinary challenges in Saskatchewan: short staffing, inflation, retention and quality of care just to name a few," said Bashir Jalloh, president of CUPE 5430 and a nuclear medicine technologist.  "Members are being run off their feet because there is simply not enough staff.  We have seen bed closures, emergency room closures and service disruptions."
"I am very proud to represent health care providers because we are the beating heart of what keeps this province healthy," added Jalloh.  "Together we will fight for better wages, better working conditions and better care for patients and residents."
CUPE 5430 is Saskatchewan's largest health care union and represents over 13,000 health care providers across the province.