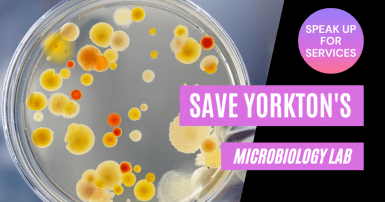 The Saskatchewan Health Authority (SHA) is cutting life saving microbiology testing from the Yorkton Regional Hospital. Starting on May 2, microbiology samples from Yorkton and the surrounding area will now be sent to Regina for processing.
"Our Microbiology lab diagnoses critical illnesses such as staph infections, sepsis, meningitis, and post-op infections. The range of tests the government is cutting include microbial organism identification and sensitivity reporting, which is used to identify which treatment options should be given to patients to effectively counter infections," said Linda Renkas, Regional Vice-President, CUPE 5430. "If treatment or diagnosis is delayed, the consequences can be life threatening."
The Yorkton lab currently processes thousands of life saving tests per year.  The government says there won't be a delay in processing.
"With only one courier a day from Yorkton to Regina, if you are not there by the cut off time – your specimen will not get to the Regina lab until the next day. If the roads are impassable due to snow, samples will not get to Regina in a timely manner," added Renkas.
Centralization of health services in Regina also increases workload for staff at the Regina lab.
"Our members in laboratory services in Regina are already experiencing workload issues, especially with the increased demand due to COVID-19," said Sandra Seitz, President of CUPE 5430. "It is clear that the SHA has been making decisions without fully thinking through the impacts on worker's and our communities."
"Rural microbiology services are necessary and valuable. Lab staff in Yorkton have the skills, expertise and the know-how to get tests processed in a timely manner," concluded Seitz.
CUPE is encouraging people to take action by writing their MLA. Learn more here.