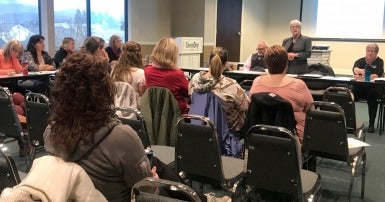 When Trustee Barry Neufeld made homophobic and transphobic comments regarding the Sexual Orientation and Gender Identity (SOGI) policy adopted by School District 33, CUPE 411 knew they could not stand idly by and allow students and staff in Chilliwack schools to be discriminated against or made to feel unsafe at work.
In a Facebook post, now deleted, Neufeld made comments decrying SOGI as a "weapon of propaganda", saying that allowing transgender children to express their gender identity was "child abuse." As the keynote speaker at a public meeting organized by a right-wing pressure group called Culture Guard, he accused proponents of inclusive education of "using innocent children to launch a cultural revolution." Neufeld described transgender identity as a symptom of mental illness and harmful to society.
Initially, the Board issued a media release stating that Neufeld's comments were his own personal opinions and did not reflect the views of the Board. More recently they have requested that Neufeld resign, but they have not censured Neufeld.
The legal firm Allevato Quail & Roy filed the human rights complaint against Barry Neufeld and SD 33 on behalf of CUPE 411 in January. The parties can go to mediation before the Tribunal accepts the case. If the Human Rights Tribunal accepts the case, it could go to mediation or to hearing. The firm explained that the case is not about freedom of expression, but about providing safe workplaces by affirming that transphobia and homophobia have no place in our schools.
"This is about protecting human rights not only of our members, but of the students, too," said CUPE 411 President Shana Kirkland. "As education support workers, everything we do works towards creating an environment for students that is operational, safe and inclusive."
The Human Rights Code protects all British Columbians from discrimination in their workplace. After the Code was amended in July 2016 to include gender identity and expression as a prohibited ground of discrimination, the Ministry of Education required all B.C. schools to adopt anti-bullying policies that explicitly refer to sexual orientation and gender identity. These policies promote inclusion of LGBTTQI students.
CUPE 411 represents more than 800 education assistants, clerical, custodial, maintenance and transportation education support workers in Chilliwack.