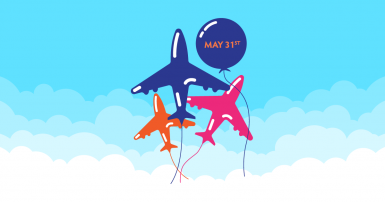 May 31 is International Flight Attendant Day, a day to recognize the spirit and the efforts of flight attendants around the world.
The last couple of years have been particularly challenging for flight attendants. Many have worked through the pandemic, bringing Canadians home and keeping essential travel operating. As things return to normal and travel resumes, flight attendants have welcomed Canadian families and business travellers back to the sky, while ensuring safety protocols and procedures remain in place.
"We'd like to take this day to recognize all of our members for their efforts and dedication through the pandemic. The pandemic brought unique challenges for flight attendants including increased loneliness and isolation on layovers, and immense difficulty balancing work and family responsibilities with limited flexibility and non-existent childcare options," said CUPE 4070 President Crystal Hill.
CUPE represents about 4,000 flight attendants and cabin crew members at Westjet, Encore and Swoop airlines. Though many were laid off during the COVID-19 pandemic, all CUPE 4070 members have since been able to return to the sky.
"We're so glad our members have been able to return to work safely. However, the new normal has been overwhelming and has brought its own set of issues that affect our members every day. Today is a day to reflect and salute the resiliency of all Local 4070 members at WestJet, WestJet Encore, Swoop, and our Airline Division colleagues."
To mark the day, CUPE 4070 will be recognizing the efforts of flight attendants with gift baskets generously donated by Van Houtte, Bigelow Tea, Master Chocolate, Step Up Comfort, Pocket of Flowers, Rita's Kitchen, Royal Ontario Museum, Steven Sarasin, Beaded Beginnings, Infinite Alchemy, Siesta Massage Therapy, Tilted Veil, and Prismatic Ash Soap Co.