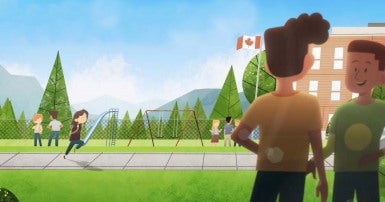 CUPE 3742 reached a tentative agreement with the Prince George School District (SD57) in BC late Friday night. The agreement for Early Years and K-12 support workers followed many 11-hour and 12-hour days of effort by the Local's bargaining team.
CUPE 3742 President Karen Wong gave kudos to the whole bargaining team and their National Staff Representative who helped develop strategies and creative counterproposals. She noted that the service improvement allowance negotiated in the Provincial Framework Agreement (PFA) made a big difference in what they were able to accomplish for members in this round of bargaining.
"We've developed a good working relationship with the employer over the years," said Wong. "But this tentative agreement is truly a 'collective agreement' between the employer and the union, with wins on both sides."
Wong notes that every member of the bargaining team is looking forward to presenting the tentative agreement to members starting today.
"Resolving not to take concessions gave us the strength at the table to protect previous gains our members made," said Wong.
The PFA, approved by the K-12 Presidents' Council in September, forms part of the tentative agreement. The current K-12 agreement expires on June 30, 2019. When ratified by CUPE locals and school districts, the provincial agreement will be in effect from July 1, 2019 to June 30, 2022.
Further details of the tentative agreement will not be available until after ratification by all parties. Ratification is expected to be completed by early next week.
CUPE 3742 represents just over 1,000 SD57 Early Years and K-12 support workers in the north at Prince George, McBride, Valemount, and Mackenzie. They include education assistants, indigenous workers, Early Childhood Education workers, youth care workers, clerical and custodians.
To find out more about CUPE members working in K-12, visit bcschools.cupe.ca.