Lou Arab | CUPE Communications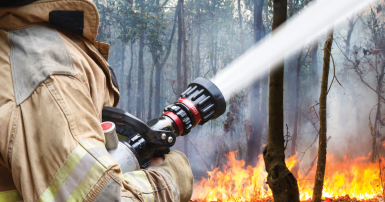 When 80,000 residents of Fort McMurray fled wild- fires and evacuated their city, a number of people stayed behind. Others evacuated but came back quickly to ensure that when the public were allowed back in, they had good functioning public services to come home to.
Fort McMurray is a part of the Regional Municipality of Wood Buffalo. CUPE 1505 represents over 1,000 employees of the city, including many who stayed behind to transport first responders, clean up the city, and make sure residents have safe drinking water.
City transit drivers worked 86-hour weeks transporting people in and out of the city, even as fires blazed and air quality was poor. On one day, the air quality (normally measured on a scale of 1-10) was measured at 38. Drivers and other workers had to be fitted with special breathing equipment normally reserved for firefighters going into infernos.
Workers laboured to prepare water systems, draining reservoirs of contaminated water, shut- ting off water to destroyed properties, flushing pipes and monitoring and testing water quality.
Working or not, tensions have been high for all residents.
"Everyone has a high level of anxiety throughout this whole process," said Julie O'Brien, president of CUPE 1505. "If you evacuated, you want to get home. If you are working, you are wandering around a ghost town every day—either scenario is hard on a person." 
O'Brien and Vice-President Joe McIsaac were given clearance to visit the evacuated city and meet with members still working.
"It's important for us to be there," she said. "Tensions are high, and disputes sometimes get uglier than they need to be. If we are there we can represent our members and see firsthand what the need is."
O'Brien said local officials made a point of doing wellness checks on members during the visits. "After something this tragic, it's important to look after each other, that's what we do in CUPE."