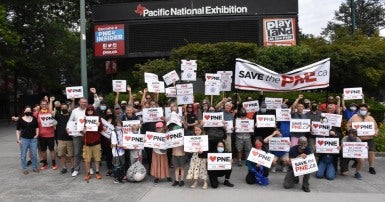 Hundreds of people, including union members, families and the public rallied on Wednesday in a day of action to draw attention to the dire financial position of the Pacific National Exhibition following 16 months of the pandemic.
At morning and afternoon rallies held at the PNE's main entrance, passing drivers honked their horns in support drawing cheers from the crowd, at times creating a symphonic cacophony on Hastings Street.
Although the fair will open with limited capacity on August 21, CUPE 1004 President Andrew Ledger says that without $8 million in emergency aid, the PNE re-opening will not come close to covering the debt incurred during the pandemic.
"The PNE will not earn anywhere near the revenue it needs to fully recover from the pandemic," said Ledger. "The B.C. government must invest now to maintain jobs and long-term economic benefits and to protect this beloved summertime tradition for all British Columbians."
CUPE BC President Karen Ranalletta and GVP Sheryl Burns joined the rally, as did BC Federation of Labour President Laird Cronk. In a great show of solidarity, many unions came out to support CUPE 1004 members and other PNE workers at the rally.
"The PNE is the biggest employer of youth in this province, and there are few barriers to employment," said Ranalletta. "The Fair is also important to newcomers to Canada and to people with disabilities, giving them access to good union jobs."
Ledger thanked everyone for supporting the PNE, saying the rallies sent a strong message about how important the fair is for the community, PNE workers, and all British Columbians.
CUPE 1004 is also running a radio ad with online advertising, encouraging the public to take action to support the PNE and its workers by visiting SaveThePNE.ca.