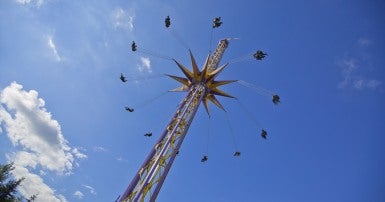 Around 200 CUPE 1004 members, workers at the Pacific National Exhibition, will be joining the B.C. government's immunization efforts. In a partnership announced Wednesday by B.C. Premier John Horgan, CUPE 1004 members laid off due to pandemic-related PNE closures will have the opportunity to work at Vancouver-area vaccination clinics.
"We are very proud that CUPE 1004 members will be taking on this important work for our community," says Andrew Ledger, President of CUPE 1004, the union representing over 4,000 workers at the PNE. "Like all CUPE members, PNE workers are dedicated to providing vital public services that will help in our recovery from the pandemic."
CUPE 1004 members laid off from the PNE will have the opportunity to work full-time in important supportive staff positions at Kerrisdale Community Centre and Vancouver Community College clinics. These clinics will start phased-in operations next week, and will go to full operations, 7-days-a-week, by April 1, 2021.
"It has been a challenging and uncertain year for CUPE 1004 members at the PNE. We appreciate the support of the B.C. government and the PNE in helping these members get back on the job," says Ledger. "We hope this work will help our community recover from the pandemic and allow for a safe re-opening of the PNE so all of our members can get back to work."