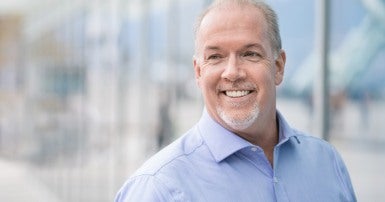 CUPE BC President Paul Faoro issued the following statement:
"Finally, after 16 long years of BC Liberal government that favoured the wealthy and the well‑connected while raising the cost of living for the rest of us, we have a new government in British Columbia. Today, a new Premier and Cabinet have been sworn in, finally putting an end to the BC Liberal era of government in our province.
"Congratulations to Premier John Horgan and his diverse and impressive Cabinet. Now the hard work of building a better British Columbia for all of us really begins.
"I look forward to working with Premier Horgan and his new government on issues that matter to CUPE members across the province. And special congratulations to CUPE member, and now Minister of Tourism, Arts and Culture, Lisa Beare on her appointment to Cabinet. Congratulations as well to former CUPE National President Judy Darcy on her appointment as Minister of Mental Health and Addictions—she has a huge task ahead, and our many members who work in this field are eager to see the positive changes that are coming.
"I also look forward to working with new Education Minister Rob Fleming as he works to restore our education system after 16 years of BC Liberal cuts and neglect.
"Countless members of our union have worked tirelessly for years to make this day happen. On behalf of all 85,000 members, CUPE BC extends sincere best wishes to the new government for the hard work ahead."