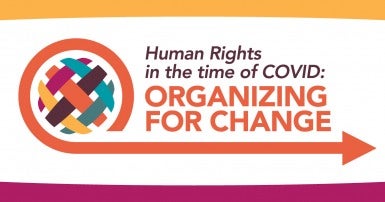 CUPE's Human Rights Conference, "Human Rights in the time of COVID: Organizing for Change," wrapped up with a powerful call to build solidarity and take action to defend and advance human rights in our union, our workplaces and our communities.
More than 700 participants are heading back to their locals with fresh energy and ideas, ready to build stronger, more equity-focused locals, and to bargain for equity.
CUPE's National Diversity Vice-Presidents summed up the conference in their closing report.
"We have to remember we're not alone, and that our struggles are all connected. We have to remember to support one another and create space in our union for leaders from equity-seeking groups. We'll always be stronger when our union is more reflective of our membership," said Debra Merrier, Diversity Vice-President, Indigenous Workers.
The COVID-19 pandemic has heightened divisions and discrimination, making the fight for human rights – and the need for solidarity – even more urgent.
"COVID-19 made so many of the existing inequalities in our society much worse and made life much harder for some of the most vulnerable among us. Women, Black and racialized workers, Indigenous workers, people with disabilities and LGBTQ2+ workers all faced the pandemic in different ways. But we've learned this week how equity-seeking members are showing strength and creativity," said Yolanda McClean, Diversity Vice-President, Racialized Workers.
Members shared strategies for advancing equity and justice. Panels featured stories of social service workers defending disability rights during the pandemic, health care workers fighting for psychological supports to deal with workplace trauma and stress from COVID-19, long-term care workers challenging barriers that exclude Indigenous women from employment, and municipal workers advancing equity and inclusion at the bargaining table.
COVID-19 has hit equity-seeking CUPE members hard, and our collective agreements are an important tool to defend human rights and break new ground. Bargaining strategies and wins were an important focus of the conference.
Members also gave feedback on a draft of CUPE's new anti-racism strategy. The plan resonated with participants in an energy-filled session. The strategy is a roadmap to dismantle systemic racism in our unions, our workplaces and our communities, and will help build a stronger, more inclusive union and labour movement that fights for the rights of all working people.
The strategy was built by members, for members, and looks at how to make our union more representative of our membership. It will be finalized and presented at our national convention in November.
McClean urged participants to keep up the fight. "The road ahead is full of challenges, but we won't let that intimidate us. We'll all take action to solve systemic problems like racism and discrimination. It's something we take on every day," she said.
Every CUPE member has a place in this work. "No matter where you live across this country, no matter if your local is big or small, we know that all our members will continue the fight for human rights and equality," said Merrier.