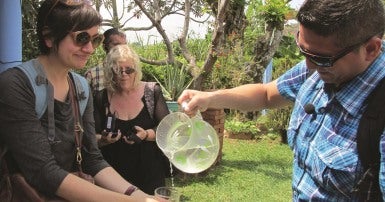 Matthew Stella | CUPE Communications
For Lisa Worobec, member of CUPE 2669 (Saskatoon Public Library) and co-chair of CUPE's National Young Workers' Committee, travelling to Colombia was a learning experience about the devastating effects of neoliberal policies abroad.
"It was a huge eye opener for me," said Worobec, who went to Colombia in July as part of a Frontlines delegation along with representa­tives from CUPE, PSAC, CUPW and NUPGE.
The delegation was in Colombia to follow up on the impacts of the Canada – Colombia Free Trade Agreement, and to discuss the privatization of public services with the Trade in Services Agreement (TISA). "I've generally known about free trade agreements being a means for exploitation, and about the bad reputation that multinationals – particularly Canadian mining companies – have in South America, but it was astonishing to learn about TISA," said Worobec.
The Trade in Services Agreement or TISA, is an agreement currently being worked on in secret by over 80 countries to further privatize and deregulate public services. So secretive are the negotiations that its existence is only known about through leaked documents.
As a library worker, Worobec sees the effects that TISA could have in exacerbating the trend of corporatizing and privatizing information. And while there is a similarity in mindset to some of the challenges Colombians are facing – privatization agendas, cuts to public services, etc. – Worobec is quick to note that Colombia is not Canada.
Like many countries in Latin America, "Colombia is really ground zero for privatization with free trade agreements signed, little to no government regulation and a high degree of exploi­tation," said Worobec. Many Colombians refer to this system, coupled with the death threats and repression that human rights activists and labour leaders face, as neocolonialism.
Despite the immense challenges faced by people in communities with virtually no public services, Worobec said she saw inspiring examples of organizing such as community built water treatment facilities, progressive farming communities resisting laws against saving seeds and the work of Public Services International in mobilizing the people to resist the neoliberal agenda. Though different in scope and severity, privatization in Canada and Colombia requires resistance efforts that work across borders. For Worobec, this was the purpose of their delegation. "We were coming in solida­rity," she said. "Not as charity, but as partners, to learn, to share, and to build relationships."