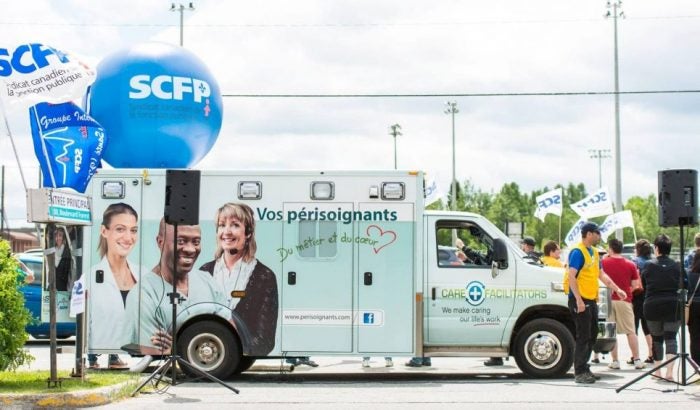 Employees of the CISSS (integrated health and social services centre) du Bas-Saint-Laurent in the Rivière-du-Loup, Rimouski-Neigette and La Mitis areas recently learned that they will be required to physically intervene in response to patients in "code white" situations or risk dismissal.
"Code white" is an emergency procedure followed in response to a request for immediate assistance from a staff member where a patient is exhibiting aggressive behaviour that compromises the physical or psychological health of the responding employees. A $10 premium is currently offered to employees who voluntarily respond to "code whites."
Employees have been advised that as of September 9, 2017, this premium has been eliminated and that they are now required to respond regardless, with the employer going so far as to add this task to their work descriptions. Refusing to perform this task could lead to disciplinary measures up to and including dismissal.
"The 'code white' procedure had been implemented on a voluntary basis," explained Johanne Campagna, president of CUPE 5007 (FTQ) representing health and social services workers in the Lower St. Lawrence region. "Normally, only the job titles 'intervention officer' and 'head supervisor' are responsible for responding to physical aggression. The employer now wants to send orderlies, laundry workers and cleaning staff in to regain control of patients in a crisis situation – workers who have no training for this and did not even apply to do this kind of work."
The union intends to speak out strongly in every available forum against this move by the CISSS-BSL which threatens the health and safety of both patients and workers, whom the employer is openly threatening with dismissal.
With more than 115,000 members, CUPE Québec represents 23,678 workers in the health and social services sector, including 2,100 members at the CISSS-BSL. CUPE is also active across a broad range of sectors, including communications, education, universities, energy, municipalities, government corporations and public agencies, air transportation, public transit, the mixed sector and the maritime sector. It is the largest FTQ-affiliated union.