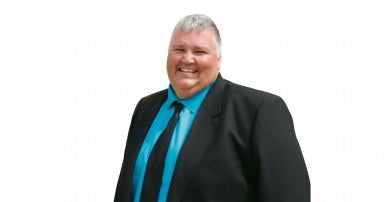 Nathan Prier | CUPE Communications
Chris Stephen was pushed to get more involved in his local after attending his first National Convention. Now he wants to give working people a voice in Parliament as the federal NDP candidate in his home riding of Bruce-Grey-Owen Sound.
"I'm not really a politician, but my general instinct is to try and help people where I can – so this seemed like the next logical step for me" Chris says, speaking about his campaign to become the NDP Member of Parliament for Bruce-Grey-Owen Sound. "I ran in the municipal election last year, so I figured I'd keep the momentum going and try something bigger."
For the last 6 years, Chris has been the Arran-Elderslie Unit Vice-President of CUPE 255, which represents municipal workers in his riding. He has always seen the power that workers have when they join together in a union as an opportunity to improve the lives of everyone, and now he wants to take things to the next level.
This October, Chris wants to bring his experience fighting for working people into the federal election, as part of Jagmeet Singh's NDP team.
"I've seen time and time again that the NDP really cares about ordinary people. I believe it's time for workers to push the country forward," Chris says.
"I'm worried about our future if we don't address the climate crisis in appropriate ways. We need to put a party in power that will make the neces sary changes for the next generation," Chris says.
"I'm also a huge believer in Jagmeet's pharmacare platform. When you want people to be successful, you have to take something off their plate. It's sad to see people having to choose between their medication or some thing else," he says.
Chris found it easy to connect the NDP vision to his experience in his local. "As a leader in CUPE these days, I'm a go-to guy for our members. When you find out that you've helped someone directly, it's a great feeling," he says.
Chris found the inspiration to take a leadership role in his local – and now a leadership role in Ottawa – from his first convention, where he saw the wide range of causes CUPE members have thrown themselves behind.
"Our local is a small composite local, and you don't always see the bigger picture – it's only when I went to CUPE conventions that I saw the power and spread that CUPE has," he says.
Chris has made it clear that he sees this power as one of the major forces for change in Canada.
"When you get on Facebook or Instagram and see CUPE members supporting a huge range of causes – say at Pride parades, or on the front lines of education struggles in Ontario right now – you're moved to act. Where there's someone needing support, CUPE is there to help," he says.
Chris is now encouraging younger members in his local to attend conventions, hoping that they will find the drive he has found. This year, however, Chris wants to bring that passion to Parliament Hill. "CUPE is great at standing out in front of Parliament and demanding better – I decided that I wanted to be the one in there making the decisions so CUPE doesn't have to be out front protesting."