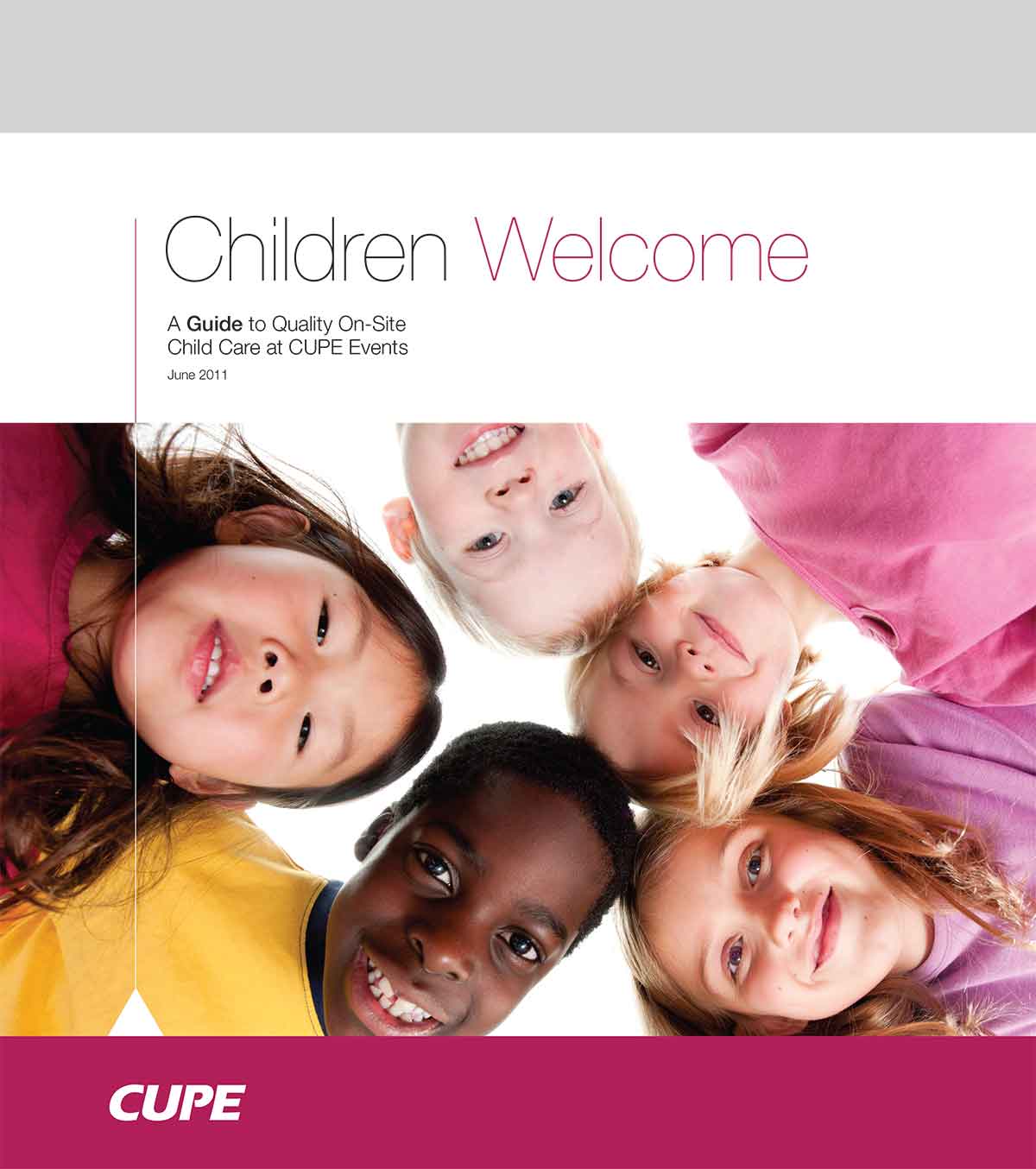 CUPE's National Child Care Working Group released the guide Children Welcome to assist the national union, divisions and locals in setting up high quality, inclusive child care programs at CUPE conventions, conferences, workshops and events.  Its contents can be easily adapted for events that are smaller and of shorter duration.
"We believe that on-site child care is a concrete way to put into practice CUPE's policies of taking collective responsibility for children, supporting parents to balance work, family and union responsibilities, and advocating for quality, universally accessible and inclusive child care," said Jamie Kass, co-chair of the CUPE National Child Care Working Group.
On-site child care supports parents to attend union events and promotes union activism. The CUPE Women's Task Force has recommended that child care be provided at CUPE events as a way of building a more inclusive and effective union.
The manual covers the key components to providing a high quality on-site child care program.  It is in a binder format to allow for easy updating.  Part A of the manual describes what is needed to plan and implement the on-site program and Part B includes detailed considerations and checklists for program components.  The manual also includes forms and templates.
Kass notes that inclusion is an important aspect of quality child care.  The manual explains how to create an environment that fosters social solidarity, celebrates cultural diversity, provides equity for children with special needs, and meets the language needs of the group.
"Commitment, planning, adequate financing, and ensuring services are provided by experienced, trained staff compensated at union rates, are critical to a successful program," says Randi Gurholt-Seary, CUPE National Child Care Working Group co-chair.
The comprehensive how-to document was put together by Sister Athina Basiliadis who has coordinated the on-site child care program at several CUPE National conventions.  Basiliadis is an early childhood educator with the First Avenue School Age Progam in Ottawa and is a member of CUPE Local 2204, child care workers of Eastern Ontario.
CUPE is one of the leading advocates for a system of accessible, affordable, high quality, public, and not-for-profit early childhood education and care.  CUPE's national child care working group, formed in 1981, works closely with the Child Care Advocacy Association of Canada and other national and provincial child care and labour groups promoting similar goals.