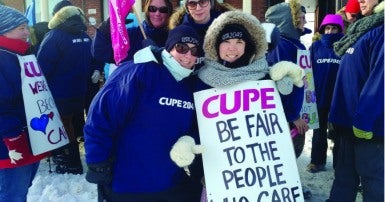 ​CUPE is calling on Nipissing and Parry Sound CAS to remember its own past statements about the pressures on child protection services in the north and to stop peddling half-truths and inaccuracies about the reasons it locked out its workers on December 23.
In the past, the society's executive director has spoken out publicly about high demands on the region's children's aid services, a lack of proper funding for CASs, and the resulting impact on workers and the vital services they provide. Her words stand in stark contrast to her statements in the media during the lockout.
In one example, CUPE National Representative Fran Bélanger pointed to a 2015 CTV news story about the leap in the number of babies born to addicted mothers in the north. At that time, the executive director of Nipissing and Parry Sound CAS told CTV that the society "couldn't keep up with demand" and that "the figure has grown close to 500 per cent since 2003 in the northeast."  
On the news site BayToday.ca in 2014, the executive director called the number of child abuse investigations completed by Nipissing and Parry Sound CAS "alarming and much too many," as she noted, "[w]e're not only seeing an increase in the number in care, but they are staying longer." According to the article, the society also saw an increase in the number of abuse cases reported because more people who suspected abuse were coming forward.
And in 2010, the Sudbury Star reported that Nipissing and Parry Sound CAS was one of 11 CASs that applied for a judicial review of funding decisions by the Ministry of Children and Youth Services. The ministry had left the society in "an absolute funding crisis," the executive director said at the time.
"A year and a half ago, the executive director recognized that services were stretched. Just over two years ago, she acknowledged that child protection workers were overseeing too many cases. And six years ago, she applied for a judicial review because the Ministry hadn't provided enough funding to deliver the society's provincially mandated services," said Bélanger.
Over the same period, funding for child protection services in Ontario has remained stagnant. Audited financial statement from March 2016 now show Nipissing and Parry Sound CAS reporting a deficit of nearly $3 million.
"So it's no surprise that, in 2017, workload is still a problem and that it continues to have an impact on the quality of child protection services in the north," noted Bélanger.
Calling on Nipissing and Parry Sound CAS to end the lockout, Bélanger concluded: "CUPE has only ever sought an effective mechanism to fix these issues. With a moment's notice, we will return to bargaining to address them in a constructive way."