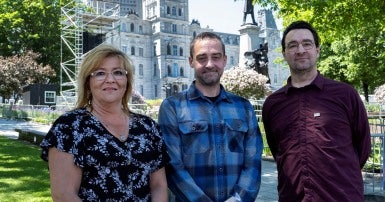 CUPE took part in an emergency meeting this morning with Jonathan Valois, the Chief of Staff of Quebec's Minister of Health and Social Services, Christian Dubé, to discuss solutions to the very precarious situation of CHSLDs in the Lower St. Lawrence. The parties agreed to remain in contact in the next few weeks to take stock of the crucial mediation sessions between CUPE and the management of the Centre intégré de santé et de services sociaux du Bas-Saint-Laurent (CISSS-BSL).
These four days of mediation will take place in two two-day segments, on June 22-23 and on June 27 and 29. The sessions will deal with the dispute involving the application of a letter of agreement signed in December 2020 dealing with the creation of permanent positions to bring stability to the teams and to the workers. The employer's erroneous application created too many work routes and too many different and changing schedules causing increased instability for patients and the personal support workers (PSWs).
Having run out of recourse and noting that the situation kept getting worse, much to the detriment of employees, patients and their friends and family, CUPE approached the Minister on May 25 to demand a meeting that took place this morning.
The letter in question went on to say that (…) what was meant to stabilize positions and ensure continuous care has turned into a nightmare. Instead of retaining the PSWs, this has caused them to leave. This instability has created a spiral of variable schedules, route changes, PSW resignations, which has resulted in inadequate delivery of care. The patients, whose vulnerability needs no further explanation, are suffering the effects (…) (translation).
"We're pleased to be invited to the meeting this morning and to be heard by the Minister's office. We clearly indicated that the situation is untenable and that the countdown has begun for firm corrective measures to be taken," explained Johanne Campagna, the president of the union representing health and social services workers in the Lower St. Lawrence (CUPE 5007), which represents about 3500 workers in the CISSS-BSL.
"Mediation sessions are a make-or-break proposition. Will the crisis in long-term care centres for the remainder of 2022 and into 2023 be resolved or will it worsen? The stakes are high for our region," added CUPE union representative Sylvain Lirette.