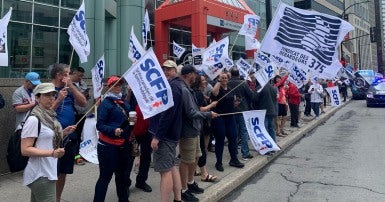 Several hundred striking croupiers with the Casino de Montréal demonstrated today at noon in front of Loto-Québec's head office in Montreal to demand a fair collective agreement. They were accompanied by many other CUPE members from various areas of activity.
"Each week we are out on strike costs Loto-Québec the equivalent of one year of added costs of a new and acceptable collective agreement.  We are in week three of our strike.  As we see it, we should have settled a long time ago," explained CUPE union representative Jean-Pierre Proulx.
"In 28 years, the negotiations for the six previous collective agreements covering croupiers had only resulted in one strike day. We're wondering what is currently going on with Loto-Québec's new management team that has been in place for a year now. We are demanding a meeting with CEO Jean-François Bergeron to take stock of the situation," said Proulx.
The contract of the 545 croupiers expired on March 31, 2020. They have been on strike since May 21, 2022. The main stumbling block is occupational health and safety. The union is demanding that allowance be maintained for adequate recovery time, which prompted the strikers' theme "Misez sur notre santé" (Bet on our health!). Some 55% of Casino de Montréal croupiers have sustained some form of musculoskeletal disorder since the start of their careers, particularly tendinitis.