Increasingly concerned for the well-being of the families they serve and frustrated after weeks on the picket line, a delegation of children's aid workers from Nipissing and Parry Sound Children's Aid Society (CAS) will travel by bus today (Wednesday) to Queen's Park in an attempt to bring about to an end to the lockout that has seen them off the job for nine weeks.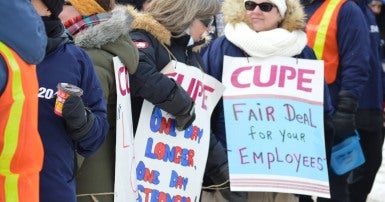 Over 50 frontline child protection workers and administrative and support staff from the CAS are scheduled to meet individual MPPs from across the province during their day at the legislature, which resumed sitting on February 21. The locked-out workers will ask for legislators' support to help end the labour dispute.
The locked-out workers have meetings scheduled with MPPs throughout Wednesday and will also attend morning Question Period in the legislature, where they will receive a welcome to Queen's Park from members of all three political parties.
"We are going to Queen's Park not only on our own behalf, but also for the vulnerable children and families that this lockout has put at risk," said Debbie Hill, president of Local 2049 of the Canadian Union of Public Employees (CUPE), which represents workers at Nipissing and Parry Sound CAS.
"We want to go back to our jobs and continue doing the vital work that keeps children safe in our communities."
The union and the society last met in bargaining on Friday, February 10. However, following a day-and-a-half of e-mailed exchanges, a representative of Nipissing and Parry Sound CAS wrote CUPE's negotiator to say "the employer sees no value in returning to the table at this time."
Locked-out CAS workers will meet MPPs to discuss concerns about the harm to services caused by the lockout; the society's use of replacement workers; and outstanding bargaining issues, including workload and the erosion of existing contract provisions.