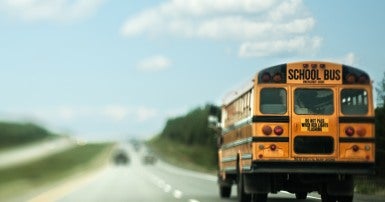 As schools around the province are closed due to the COVID-19 pandemic, CUPE education support workers are finding new and creative ways to meet the needs of students and communities.
In the Chinook School Division, bus drivers who are members of CUPE Local 4754 are being redeployed for a new purpose.
Omar Murray, President of CUPE Local 4754 and a member of the Education Workers' Steering Committee, has been a bus driver in the Maple Creek area for over 30 years. Murray hasn't experienced anything like the COVID-19 pandemic before.
Murray still drives his usual route and an additional route in town.  But instead of picking up students, Murray and other drivers are dropping off special packages for students to continue educational enrichment during the pandemic.  However, instead of a daily run, the packages are sent out on a bi-weekly basis.
"Chinook School Division is one of many who has redeployed bus drivers to serve as a conduit between schools and the students who are quarantining at home," said Murray.  "It is a great idea and a good way to address the weird world we live in."
Chinook's education assistants and other support staff are putting together the packages with individualized material in it. 
"We are giving the kids a range of material to keep them engaged and entertained.  It gives parents a little break and more tools to work with," added Murray.  "Even the high school students are getting package drop offs."
The effort to stay connected with students is especially important in rural Saskatchewan where internet bandwidth can be an issue.  "Internet used to be a luxury, but it is not.  It has become a necessity," said Murray.  "Our package deliveries are offering another way to connect."
On a regular school day, Murray covers 235 kilometers of Saskatchewan roads. For Murray, life without seeing his students every day has been an adjustment.
"As a bus driver, I get to see the kids every day, and every year from K-12.  It is interesting to watch the kids turn into adults.  I have even driven students who are children of my former students," added Murray.  "We develop a rapport with the kids, and we get to see them grow up.  It is very rewarding to help them out during these unprecedented times."
CUPE represents over 7,000 education support workers across the province of Saskatchewan.