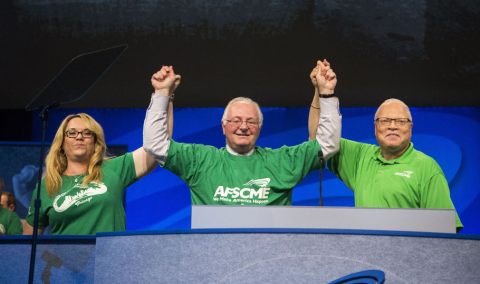 The growth and strength of unions in Canada and the United States helped build the middle-class, and unions on both sides of the border must increase efforts to pursue social justice at home and around the world. This was the message Paul Moist, national president of CUPE, brought to the AFSCME 41st international convention in Chicago.
AFSCME (American Federation of State, City and Municipal Employees) is the largest union in the U.S., with over 1.6 million members. Like CUPE, many of its members work to deliver public services. Moist highlighted the longstanding relationship between CUPE and AFSCME in his address to the convention, and the vital role the members of both unions have in the lives of Canadians and Americans alike.
"We are proud public employees.  Proud of the work we do and of the communities we live in. Our vision for our communities includes quality public services, and good jobs with decent wages and pensions for all workers," said Moist.
CUPE and AFSCME are facing many of the same challenges, such as growing privatization of public services and attacks on public sector pensions driven by corporate and right-wing forces. Moist praised the AFSCME convention theme "Bold, Brave, Determined" as the approach all unions – in Canada and the U.S.- must undertake to face common challenges.
"No union, including ours, can grow and prosper if we look inward.  If we put our heads down and hope we aren't noticed," said Moist. "We all need to speak with one another and listen more. We need to reach out to our members and our allies.  It'll make us stronger and take us one step closer to our shared vision, to build a better world for all workers."