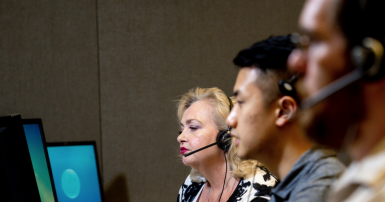 The COVID-19 pandemic and recent extreme weather events have highlighted more than ever the need for properly staffed, fully funded 9-1-1 emergency call taking and dispatch services in British Columbia. That's the public message of the Emergency Communications Professionals of BC (CUPE 8911) for this year's Emergency Service Dispatchers and 9-1-1 Awareness Week (April 10-16).
"When you call 9-1-1, seconds count," says CUPE 8911 President Donald Grant. "Lives are on the line, so you can't afford to be put on hold for several minutes or left waiting too long for emergency services to arrive because there aren't enough staff at E-Comm to answer all of the incoming calls."
For this year's Awareness Week, CUPE 8911 has launched its Seconds Count campaign, with transit shelter and billboard ads located throughout Metro Vancouver and in the Capital Regional District. Over the past several months, the union has shared the message with municipal agencies and other stakeholders that fund E-Comm: B.C.'s 9-1-1 service is unsustainably short-staffed and underfunded, and must be "right-sized" immediately to run properly and reverse a recruitment and retention crisis.
"Recent member surveys only confirm what we already knew from last year's Price Waterhouse Coopers report, commissioned by E-Comm, which identified critical staff shortages as a major problem," says Grant. "Burnout and mental health challenges make it hard for our members to face every shift knowing they'll have to skip bathroom breaks, take back-to-back calls without any recovery time, and work overtime to compensate for dangerously low staffing."
CUPE 8911 has more than 600 members in B.C., including approximately 90 support staff. Their call takers and dispatchers, who respond to more than 5,000 emergency calls every day, are the first point of contact for 99 per cent of callers who dial 9-1-1 in B.C. E-Comm is the provider of call-taking and dispatch services for 33 police agencies and 40 fire departments across the province.
For more information, visit https://www.ecpbc.ca. (English only)