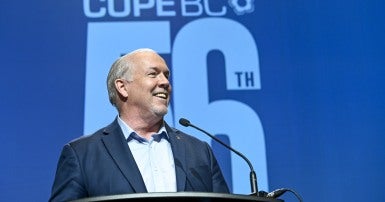 The B.C. provincial election on October 24 provides British Columbians an opportunity to decide between two starkly different visions of the way forward for the province as we continue to grapple with the COVID-19 pandemic and economic recovery, CUPE BC President Paul Faoro said today.
"For three-and-a-half years the John Horgan government has made incredible progress in repairing the damage done by more than 16 years of BC Liberals, and they've been able to do so with the slimmest of margins in the Legislature," said Faoro. "The BC NDP government has introduced Childcare BC, the first new social program in generations. They have created Clean BC, the most ambitious plan to fight climate change in North America, and they brought in the largest middle-class tax cut in B.C. history by getting rid of the regressive MSP.
"And the government has shown exemplary leadership in the fight against COVID-19, taking direction from key public health officials like Dr. Bonnie Henry, responding to the financial challenges faced by people and families, and putting additional resources into the important public services that all British Columbians depend upon."
Faoro said that CUPE BC would focus on ensuring members and the general public are aware of the options available to vote safely. From requesting mail-in ballots from Elections BC to voting in advance polls, there are many alternatives to voting before Election Day, helping reduce line-ups or congestion at polling places.
"This is the first election with a complete ban on corporate and union contributions to political parties and campaigns—one of the very first acts of the Horgan government. For many years, CUPE BC has called for the elimination of big money from our elections, and we're very happy that this election will be decided on the merits of the parties' platforms and records, and not by how many millionaires donated to a campaign," said Faoro.
"The record of Andrew Wilkinson and the BC Liberals is clear. For 16 years they ran roughshod over the rights of working people, governed almost exclusively for the wealthy and their big corporate backers, and slashed the public services that help build strong communities. And from what we've heard from them so far shows they haven't learned from their brief time in Opposition. In contrast, in less than four years—with a minority government—the BC NDP has made enormous steps in rebuilding an economy that works for everyone, not just the elites at the top.
"I encourage all CUPE members to vote for the BC NDP candidate in their community. We really are all in this together, and we should vote for the party with the best plan for working people. The choice is clear."