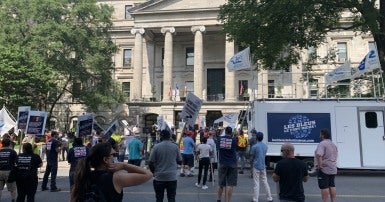 Montreal's blue-collar workers demonstrated in front of City Hall yesterday to denounce a dangerous and costly decision taken by the City to privatize cleaning services in the midst of the pandemic.
"As well as showing a colossal lack of judgment, Mayor Valérie Plante and her director general Benoit Dorais are breaking their own word. In May, we reached an agreement with the City to prevent the private sector from entering this sector of activity because blue-collar workers do it better and at a lower cost," explained Stephan Meloche, administrator of the Syndicat des cols bleus regroupés de la Ville de Montréal (CUPE 301).
The union and the City had an agreement that blue-collar workers would continue to provide this service, which is even more important during the current health crisis. "No one knows the city's buildings as well as the blue-collar workers in Montreal. No one can claim to provide better service than the city's workers," added Meloche.
Negotiations interrupted
The union also took advantage of the demonstration to highlight the City's failure to return to the bargaining table. The parties had begun a blitz of talks at the beginning of the year, interrupted in April by the COVID crisis.
"Since June, we have been asking the City to resume negotiations, but have received no official response. This lack of respect is in contradiction with the administration's rhetoric, which claims to care about its employees," said the union's chief negotiator, Hans Marotte.
Support for Port of Montreal longshoremen
After the demonstration, hundreds of blue-collar workers went to the Port of Montreal Longshoremen's House to offer their solidarity to the striking workers.