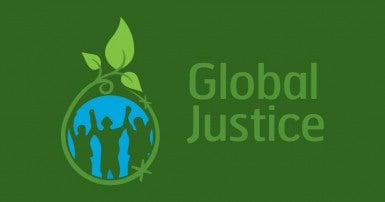 Kelti Cameron | International Solidarity Officer
The federal Liberal government is promoting a privatization scheme that uses public funds to help private investors profit from the global need to end poverty, address climate change and tackle inequality. 
The model, known as "blended finance," uses taxpayer money that has been earmarked for foreign aid to attract and subsidize private investment in projects that claim to promote sustainable development. This model, and the predatory investors that benefit from it, are responsible for the climate crisis and the crisis of inequality in the first place. 
We will not be fooled. CUPE is part of the Blended Finance Project, a coalition opposing Canada's push to privatize international aid. European countries have pushed blended finance for over a decade, and our Liberal government has jumped on board in the name of the United Nations Sustainable Development Goals (SDGs). The SDGs are an ambitious set of targets to end poverty and advance economic, social, and environmental development. UN member countries have promised to meet these goals by 2030. 
The European track record shows blended finance has failed to support countries and people who need it the most. Even though there is plenty of evidence that privatization has failed in Canada and around the world, the Canadian government is doubling down on exporting it. In 2017, the Liberals established a federal agency to facilitate international privatization deals called FinDev Canada. Canada is also one of the main sponsors of the Convergence Platform, a global organization facilitating these schemes, headquartered in Toronto. 
Sustainable development through the lens of 'blended finance' is big business. This includes major contracts for what is referred to as "green" infrastructure such as renewable energy and water, and energy infrastructure. 
The privateers declare the Sustainable Development Goals is what will close the funding gap and achieve the goal to alleviate poverty. In fact, fair taxation and equitable redistribution of global wealth would erase the gap. But it's clear this is not something the corporate sector is interested in. 
As we look towards a post-pandemic world, we must join the international community to stop the private sector from profiting off of growing global needs.
"Civil society organizations in the Global North need to hold accountable their governments for what is done in their name in the Global South" Masaya Llavaneras Blanco told participants in a recent webinar organized by the Blended Finance Project. Development Alternatives with Women for a New Era (DAWN) is a network of feminist scholars, researchers and activists from the economic South working for economic and gender justice and sustainable and democratic development. Blanco, who works with DAWN, said "civil society organizations from wealthy and less wealthy and developing regions must build bridges and work together in coalition…there is a long history of transnational social movements that I think we can build on."
CUPE supports progressive taxation of corporations and the wealthy and eliminating tax breaks and other incentives for corporations. These measures will help drive an equitable and resilient pandemic recovery that lets governments strengthen their public services and not rely on foreign investment.