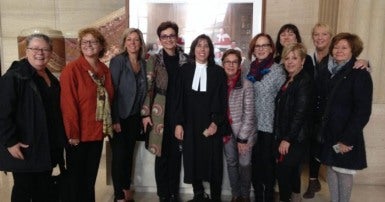 CUPE lawyer Annick Desjardins was at the Supreme Court of Canada to argue that amendments made to Quebec's Pay Equity Act in 2009 are unconstitutional, because they don't allow pay equity adjustments to be made retroactively and they prevent female workers from accessing information.
In October 2016, CUPE, its union allies and community groups won their case at the Quebec Court of Appeal. The Court found that the Liberals' 2009 reform of the Pay Equity Act was unconstitutional because it infringed on women's right to equality in employment.
The reform eliminated the retroactivity of pay equity maintenance. The Court of Appeal found that this lack of retroactivity allowed employers to pay discriminatory wages for successive periods of up to five years. Furthermore, the court ruled that the Pay Equity Act did not allow female workers to exercise their rights.
Rather than accept the judgment of the Quebec Court of Appeal, the Couillard government, as is typical, appealed to the Supreme Court of Canada to overturn the judgment, which benefits women across Quebec.
On this big day for women in Quebec, activists and retired university workers were in Ottawa to show their support. Tens of thousands of Quebec women will be looking forward to the decision of the nation's highest court, which is expected in the months to come.
Women and unions in Quebec fought long and hard for the Pay Equity Act, before it was finally passed more than 20 years ago. Its objective was to end systemic gender-based discrimination against persons in employment categories involving work traditionally performed by women. The Act requires all companies with 10 or more employees to implement a pay equity plan.