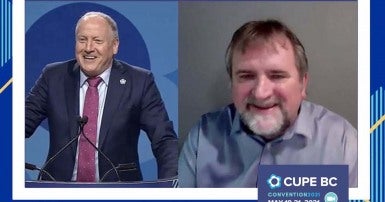 CUPE members across BC were thanked for their tireless work on the frontlines of the COVID-19 pandemic by CUPE National President Mark Hancock in his address to the CUPE BC convention.
"There is nothing that could have properly prepared us for the year we just had. But we can be proud of what our union has achieved, and we can be proud of the dedication our members have shown since the pandemic took control of our world last year," said Hancock, addressing delegates on the second day of the virtual convention.
Hancock commended CUPE BC for taking a leading role in helping the province weather the unprecedented public health crisis and thanked the provincial government for working collaboratively with the union.
"When a lot of provinces with conservative premiers were picking fights with health care workers and firing education workers and municipal workers, the BC NDP government invested in people and public services," said Hancock.
While praising the efforts of CUPE BC members over the past year, Hancock says the pandemic has exposed continuing inequities the union must address in the province and across Canada.
"It's time to step up, and fight for a system of care and a social safety net that actually meets the needs of our times," said Hancock. "The pandemic has changed so much about the way our world works. And it has shown us just how many people we were letting slip through the cracks."
Hancock says CUPE members have an opportunity to use lessons learned during the pandemic to make Canada and BC better places to live for everyone.
"We've been through hell this past year. But I believe there is hope for a better world on the horizon, if we're willing to fight for it," said Hancock. "At the bargaining table and on the picket lines, at the ballot box and in the streets. We will begin the work of rebuilding a better world in the months and years ahead."