With 2016's International Literacy Day, on September 8, we celebrate five decades of literacy activism and progress world-wide. This year, the United Nations Education, Scientific and Cultural Organization (UNESCO) honours the national and international efforts to increase literacy rates under the banner "Reading the Past, Writing the Future."
This year also happens to be the year that United Nations countries are implementing the 2030 Agenda for Sustainable Development. Literacy is a part of this Agenda, where we seek to "ensure inclusive and equitable quality education and promote lifelong learning opportunities for all."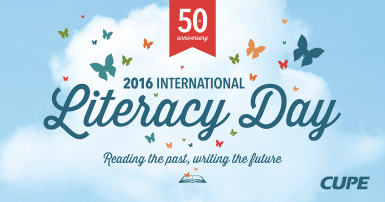 Unfortunately, Canadian governments have eroded literacy and essential skills programs and organizations over the past decade. As one of the richest countries in the world, Canada needs to ensure literacy and essential skills training are given full political priority and support to meet the needs of workers and all people across the country.
If we are to be successful, we will need strong federal leadership and coordination to:
Renew work with the provinces on programs, funding, better practices and research.

Refocus programs to address the needs of unemployed people. Ensure all are eligible, whether on EI or not.

Support the most vulnerable citizens, including Aboriginal people, new Canadians, refugees, and women, and ensure they can meaningfully participate in setting policy and programs.

Establish multi-stakeholder forums that support meaningful participation from unions to set economic and labour policy, including literacy and training.
This year, as ever, the federal government can count on CUPE to be a willing partner in improving literacy rates for all Canadians.
Learn more:
This video underlines the importance of literacy for our workplaces and our unions.
Transformations is a book that provides a history of the role that unions played in literacy and basic skills education in Canada. CUPE worked closely with other unions to launch this project in 2015.