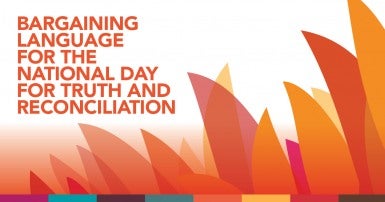 September 30 is commonly known as Orange Shirt Day. The Orange Shirt Day movement began in 2013 to honour the survivors of residential schools and those who never returned home.
In June 2021, the Government of Canada passed legislation to create a new federal statutory holiday, the National Day for Truth and Reconciliation (September 30). This means September 30 is now a paid holiday for workers in federally regulated sectors.
Most CUPE locals are under provincial jurisdiction. As such, September 30 will be considered a normal working day for most CUPE members.
If your collective agreement does not include any language that can be used to argue for the observance of September 30, then September 30 should be proposed as a paid holiday in future bargaining.
CUPE's Strategic Directions, adopted by the membership at our National Convention, commit our union to truth and reconciliation. This includes recognizing the legacy of the residential school system and the ongoing harm that Canada's assimilationist policies and laws have on Indigenous peoples.
Bargaining the National Day for Truth and Reconciliation into your collective agreement contributes to the reconciliation process and helps fulfill the Truth and Reconciliation Commission's calls to action.
Download the guide