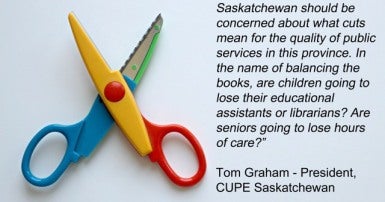 The Government of Saskatchewan has sent a letter to all public sector employers calling for wage reductions. This move is a step back for public services and the working people who provide them, says CUPE Saskatchewan.
"Public sector workers did not cause Brad Wall's billion-dollar deficit – Brad Wall and the Saskatchewan Party government did," said Tom Graham, president of CUPE Saskatchewan. "Wages for public sector workers barely keep up with inflation, and in many cases, they have fallen behind. Many CUPE workers in education, health care, and social services have seen their workload balloon while their wages stagnate. Asking these workers to pay the price for Brad Wall's fiscal mismanagement is unfair.
"Every resident of Saskatchewan should be concerned about what this means for the quality of public services in this province. In the name of balancing the books, are children going to lose their educational assistants or librarians? Are seniors going to lose hours of care?" added Graham.
More and more think tanks and governments are realizing that cuts to public services do not stimulate the economy in hard times.
"This government has wasted billions on overpriced and undersized P3 schools, on costly Lean consultants, on shady land deals, on privatized bypass roads and questionable carbon capture, and lost millions through privatizing profitable Crowns. Cuts to working people's wages are just going to mean less spending money in the pockets of Saskatchewan families," said Graham. "The people of this province deserve better."
CUPE is also concerned about the implications this announcement has on the right to collective bargaining.
"Many locals have recently signed collective agreements with marginal wage increases in place that the government is now suggesting are null and void," said Graham. "Has the government even considered the legal implications of its actions?"
CUPE Saskatchewan is the largest union in the province. We represent workers in education, health care, community based organizations, municipalities, libraries, universities, and many other sectors.