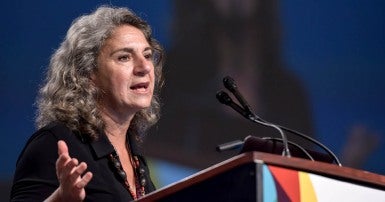 Economist Armine Yalnizyan says we shouldn't despair over tough times. While today's precarious work economy looks more like the economy of 100 years ago, she argues, there is reason for optimism.
"There is renewed vigour for change and CUPE is on the forefront," Yalnizyan told delegates in her guest speech to convention. "Movements to increase the minimum wage are succeeding. The election of Jagmeet Singh as leader of the NDP. These are signs of positive change."
Today's new digital monopolies mirror the robber baron economy of the early 1900s and are creating insecure jobs, she added. Less than 16 per cent of Canada's private sector economy is unionized, labour rights have been stripped, and public sector unions are in the crosshairs.
"Labour needs more clout. We can't build a resilient Canada if people are tethered to precarious jobs," said Yalnizyan, who encouraged delegates to "seize the moment" to agitate for change.