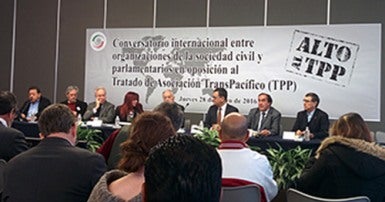 Labour and civil society groups, including CUPE, joined legislators from across the Americas Jan. 26-29 in Mexico City to step up the fight against the massive Trans-Pacific Partnership trade deal.
CUPE was part of a Canadian delegation including the Trade Justice Network (TJN), the Quebec Network on Continental Integration (RQIC), and Common Frontiers, at the Mexico City meeting. Legislators from all five countries in the Americas covered by the TPP took part, including NDP trade critic Tracey Ramsey, Green Party leader Elizabeth May, and Québec solidaire representative Andrés Fontecilla.
The far-reaching TPP covers 12 countries that represent 40 per cent of global trade (Canada, Chile, Mexico, Peru, the United States, Japan, New Zealand, Australia, Brunei, Singapore, Vietnam and Malaysia). The deal will likely be signed on February 4, while ratification could take up to two years.
An attack on workers, public services and the environment
Like all free trade deals, the TPP gives rights and protections to the world's richest corporations, while workers and the environment lose more ground. The deal will expand privatization, drive down wages and increase the cost of health care and education.
The TPP will also limit a government's ability to protect its citizens or the environment. The deal gives foreign corporations the right to sue national governments if a policy decision interferes with their investments – and profits.
Growing international solidarity
Coming out of Mexico City, civil society groups from across the Americas have launched a coordinated action plan focusing on four areas: education, mobilization, lobbying and legal challenges.
Mobilization in Chile, Peru and the United States is already starting to bear fruit. With massive job losses and rising inequality in the wake of NAFTA, as well as the 2005 defeat of the Free Trade Agreement of the Americas  as a backdrop, there is strong resolve to bring the TPP fight to the next level.
The battle in Canada
Unfortunately, Canada's Liberal government has decided to sign the TPP without the full and rigorous consultations they promised during the election campaign. But with the NDP and the Green Party adding their voices to the growing chorus of unions, academics and advocacy groups panning the agreement, there is growing momentum to push the government to reject ratification.