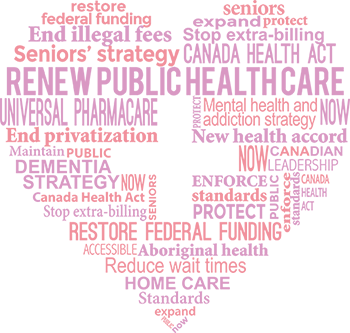 March 31 marks the second anniversary of the expiry of the federal-provincial Health Accord. CUPE joins the Canadian Health Coalition in calling on the new federal government to enforce the Canada Health Act and to adopt a new Health Accord.
In a letter to federal Health Minister Jane Philpott, the CHC says: "We are writing today to urge you, the federal government, to uphold the Canadian values of health care based on need and not the ability to pay and enforce the Canada Health Act. We want you to ensure fair federal funding to the provinces and territories for the duration of a 10-year Accord and tie that funding to national standards."
The letter also calls for a halt on privatization and extra-billing, and for a national public drug plan.
In the latest federal budget, no money at all was announced for a new Health Accord, or for initiatives like home care or reducing drug costs. CUPE had already raised concerns following the weak commitments coming out of the federal-provincial meeting with the health ministers in January.