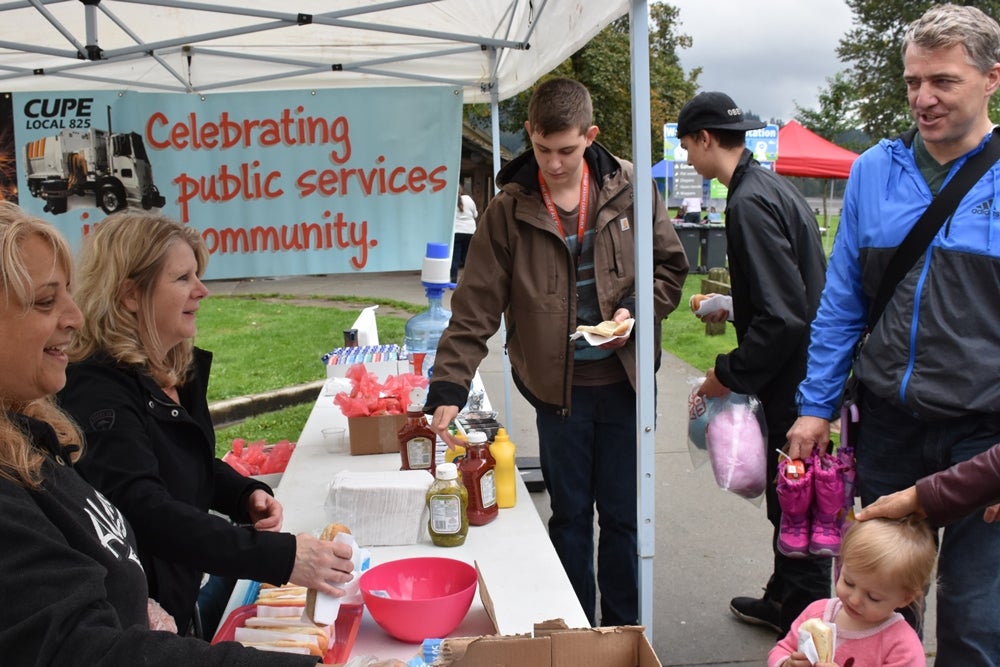 Five locals give back to their community with picnic in the park
Cloudy weather was not enough to dampen spirits at the fourth annual Tri-Cities family picnic in the Vancouver area on Saturday, September 22.
Before a spectacular view of Burrard Inlet, members from five CUPE locals served up hotdogs, snacks and refreshments while providing games and face painting for the kids. Visitors to Rocky Point Park were surprised and delighted to wander into the CUPE fest and be welcomed with offers of free food and children's entertainment. Some gave donations to help offset the costs.
CUPE 386 (Coquitlam Civic) President Gord Willis said there are two reasons for holding the event, sponsored by locals 386, 498, 561, 825, and 1936.
"One is that it's for our members who live and work in different cities—it gives them a chance to work together and get to know each other," said Willis. "The other is that it's for the public. People don't often get to see us outside our jobs, and they don't see us in the news unless it's contract negotiation time. So having a fun event like this is a good way for the public to get to know us better."
CUPE 825 (Port Moody Civic) President Christine Gervan thanked the many volunteers who helped stage the event.
"I certainly see the five locals as a team connecting and working together for the betterment of our members, strengthening CUPE and the community as a whole," said Gervan.
CUPE 1936 (Community Social Services of Greater Vancouver) President Sheryl Burns noted that the presence of Tri-Cities candidates for the October 20 community elections is a good sign of CUPE's influence.
"Events like this enable us to make connections with community members and build relationships," said Burns.
"It's good that so many labour-endorsed candidates are here too, because the community knows we support them. It also shows the people who are running for office that CUPE keeps local politicians accountable."
Halfway through the event, the clouds parted and the sun shone down on the park, drawing more visitors.
"Thankfully the weather was better than anticipated, so it was a wonderful event for the amazing volunteers and for those we were privileged to connect with," said Gervan.
For more photos, visit the gallery.