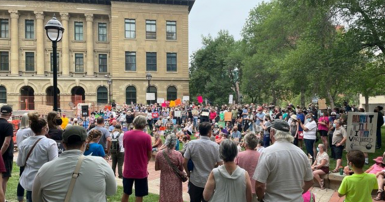 On Friday, July 30, 2021, Dr. Joe Vipond and other health care professionals in Alberta put out an urgent call for action to all Albertans to protect public health in our province. These healthcare professionals are extremely concerned by the announcement by Dr. Deena Hinshaw, the Chief Medical Officer of Health for Alberta, that Alberta will cease asymptomatic testing, contact tracing and mandatory isolation for COVID-19 and its variants, will have a very negative effect on the public health of our province.
Since July 30, 2021, large numbers of Albertans have been rallying in Calgary, Edmonton and Red Deer to call on the Government of Alberta, led by Jason Kenney and the UCP, to rescind this reckless policy and adhere to the best practices set out by health organizations worldwide.
CUPE Alberta has been supporting these rallies and the Division is hoping that our Local Unions will also support this important grassroots effort to ensure that public health is protected in Alberta. We are asking that Local Unions also support these rallies by promoting them to their members and asking them to attend.
The rallies are currently being held every day at noon.
Details can be found at the CUPE Alberta website.