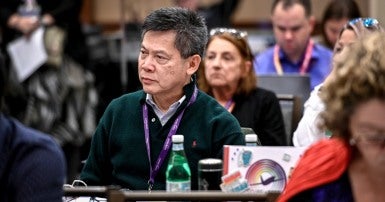 Nearly 5,000 new flight attendants are now officially members of the Airline Division. At the Airline Conference, delegates amended their by-laws to welcome into the division flight attendants at WestJet, Encore, Swoop, Flair and Air Georgian, who have joined CUPE in the last three years. The Airline Division now has 15,000 members across the country. 
Results of the Airline Division membership survey were presented at the conference. The results clearly show that workplace fatigue and stress is the main issue of concern for CUPE flight attendants (94 per cent of respondents). An even higher percentage of flight attendants (96 per cent) support stronger regulations to reduce fatigue. The Airline Division will launch a campaign to tackle the issue. 
''It will be our duty to ensure that our membership understands the importance of protecting their rights, maintaining their health and flying safely," said CUPE Airline Division President Julie Roberts.