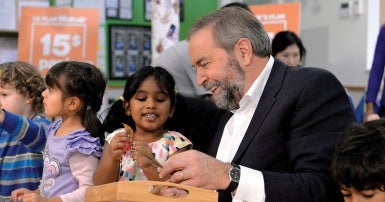 Families deserve quality, affordable child care they can rely on. Yet too many families pay more for their monthly child care than they do for housing – up to $2,000 a month.
In Ontario, families can pay between $40 and $60 a day for care. In big cities, the cost is even higher.
Too often, women have to miss work or give up good jobs because they cannot find reliable child care.
The cost of child care is often breaking the family budget. It's time to rethink child care.
We need a federal child care plan that is affordable, will help families and allow more women to join the workforce and boost our economy.