CUPE's research, job evaluation and health and safety work reaches into every corner of our union, every day. From the bargaining table to the shop floor to the legislature to the streets, our work supports members defending good pensions, fighting for wage equity, building safer workplaces, opposing regressive legislation and campaigning for better public services.
We produced tools and resources that help our members advocate and take action. 
This year, we launched the results of our member survey at the National Human Rights Conference. The survey shows that while CUPE members are better off than workers without unions, they still suffer systemic discrimination, and too many are in precarious work with low wages and no benefits. The results showed that in general, women, racialized and younger members were most likely to work in more precarious circumstances.

Our focus on precarious work also included a report documenting the rise of precarious, insecure work in BC's university sector.
We also produced tools and resources that help our members advocate and take action. A major priority was analysis on child care, health care, retirement security and good jobs, as we organized for the federal election. In addition, researchers produced fact sheets on many topics including: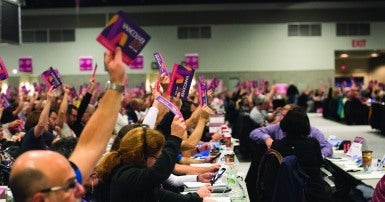 Income splitting and the need for a national child care program
Federal Conservative cuts to Old Age Security and the Guaranteed Income Supplement
The Temporary Foreign Worker Program and the Live-in Caregiver Program
What provincial auditors have said about P3s
How to find information on your employer, and tips on how to research a social services employer