Paul Moist | CUPE national president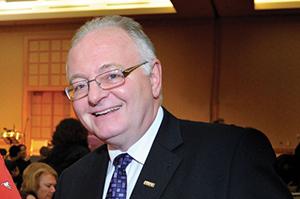 Our locals are facing increasingly difficult bargaining. It's something our members are feeling in every part of the country, and across every sector. Despite these mounting economic and political pressures, CUPE is committed to achieving real gains for all our members.
While CUPE's bargaining is driven by our locals, our greatest strength at the bargaining table is our numbers. Having resources available to support local bargaining has helped us make great strides.
But we can be doing more.
We have started by re-connecting with CUPE members through the Fairness Project by making sure that we are listening to them and reflecting their priorities in the work of the union. But we must also better connect members with each other, and give them a chance to share their expertise and experience at the bargaining table.
We will do this with our new national sector council. It will be a forum for discussions on bargaining that go beyond our locals. It will let us share strategies and information within our respective sectors, and nationally. It will also help provide more bargaining education and development to make our members better negotiators.
The national sector council will oversee a biennial conference, to be held in the off-year from our national conventions. Representatives from each major sector will be able to meet in sector groups and come together in a national plenary. The goal is to learn and share information with each other.
For three decades, wages have not kept up with the cost of living, all the while corporate profits skyrocket. There is a better way – one based on fairness. By re-connecting with our members and harnessing their power at the bargaining table, we can achieve real gains.
I hope to see many of you at the inaugural national sector council conference, October 6 -9, 2014, at the Sheraton Centre in Toronto.
Paul Moist
twitter.com/CUPENatPres