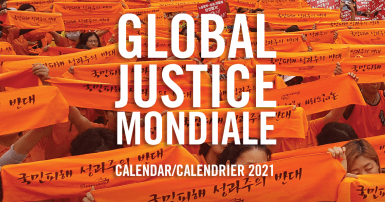 CUPE's 2021 Global Justice Calendar is a celebration of the power of international solidarity. This year's issue focuses on how workers and other CUPE partners are organizing to protect their safety and rights during the pandemic, and resisting a rise in violence and repression.
The pandemic has left many of our partners fighting for their lives and their rights, while also confronting the devastating effects of job and income loss in countries with weaker labour laws and limited or no social safety net. Many workers are struggling to pay for food and rent after losing work because of the pandemic. For some, there is no government support, and for others, it's far from enough. 
The urgency of these struggles has meant partners couldn't share photos with us, and the global shutdown meant CUPE didn't organize any worker-to-worker exchanges as we normally would. This year's calendar features images from some of our previous calendars. We've updated these stories with information about how COVID-19 is shaping our collective struggles for 2021 and beyond.