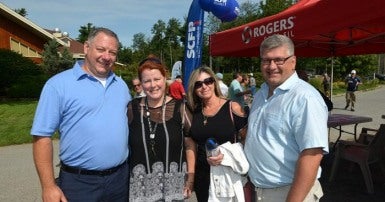 The 28th edition of the CUPE Quebec Golf Tournament culminated in a donation of $20,000 to Dans la Rue.
Founded by Father Emmett Johns almost 20 years ago, Dans la Rue helps homeless or vulnerable young people between the ages of 12 and 25. The organization's cafeteria serves over 40,000 meals a year for people in need.
Personal donations account for 94% of the organization's operating budget, so it goes without saying that a donation of $20,000 represents a significant contribution.
"Part of the social mission of unions is giving back to non-profit organizations," said Denis Bolduc, president of CUPE-Quebec.
Donations from participants and partner organizations raised during the tournament totalled $10,000. At the dinner, CUPE National Secretary-Treasurer Charles Fleury announced that the confederation would double that amount to a total of $20,000.
More than 250 people participated in the tournament, which was held at the Club de Golf La Madeleine. Perfect weather ensured the success of the event.
Benoît Bouchard, CUPE-Quebec Secretary General, thanked his organizing committee, the sponsors and especially the volunteers, without whom the tournament could not have taken place.
The organizers are already at work on the next edition of the tournament. An event like this requires a year's advance preparation.
The 28th Golf Tournament photo album is available on the CUPE-Quebec Facebook page.