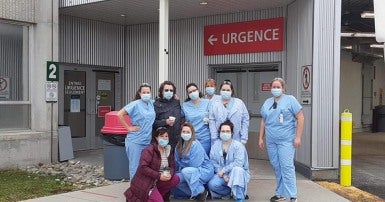 This opinion letter, which was signed by Marc Ranger, the Director of CUPE Quebec, was published on November 12 by the newspapers of the Coopérative nationale de l'information indépendante.
At 10 am on November 12, we paused in support of health care, social services and education personnel, who are facing an unprecedented health crisis. In spite of difficult conditions, these men and women put themselves in harm's way to provide services to the public. Health care personnel are 10 times more at risk of contracting COVID-19 than the general population. To date, more than 18,000 workers in the health care and education sectors have tested positive, and 12 have died.
On November 12, we paused for Marcelin François, who was 40. He and his family recently arrived in Quebec via the much publicized Roxham Road. A weekend patient attendant, he had no status, no union and no rights, and was employed by a placement agency that sent him from one residence to another as needs dictated. He was denied refugee status. Let's remember him. I paused for Stéphanie Tessier, 31, who worked at the CHSLD Lucien-G. Rolland; for Victoria Salvan, a patient attendant at the CHSLD Grace Dart, who was just months away from retirement; for Marina Thenor Louis, a patient attendant at the CHSLD Cartierville; for Sylvain Roy, a patient attendant at the CHSLD Lionel-Émond; for Thong Nguyen, a patient attendant at the Jean Talon Hospital; for Patrick Péladeau, a patient attendant at the CHSLD Lionel-Émond; for Marie-Caona Lamitié, a patient attendant at the Ressource intermédiaire Place Lacordaire; for Laurence Ménard, a social work technician at the CLSC Drummond; for Sam Laguerre, an administrative assistant at the CHSLD Providence-Saint-Joseph; for Huy Hao Dao, a doctor at the Direction de la santé publique de la Montérégie. All of these people contracted COVID-19 during the course of their duties during the first wave and did not survive.
On November 12, we paused for tens of thousands of employees in education, who go that extra mile to support students and parents to create the best possible learning environment, in spite of reforms, labour shortages, substandard working conditions, ever-increasing pressure and health risks in facilities that are often not compliant.
On November 12, we thought of these men and women who, shift after shift during the first wave, returned home with tears in their eyes, having cared for elderly residents who did not receive any intensive care and passed away under extremely difficult conditions with no family, save for the devoted people totally dedicated to their work, who accompanied them until the very end.
In November 12, we thought of all of the seniors who died alone due to staff shortages.
On November 12, the economic update was issued, and at a time when Quebec will be spending $14 billion in public funding in the next few years on infrastructure projects, roads, bridges, etc., to relaunch the economy, it is high time that priority be given to people, to human resources who ensure that our public services do not collapse and who help the public make it through the worst crises.