Aline Patcheva | CUPE Staff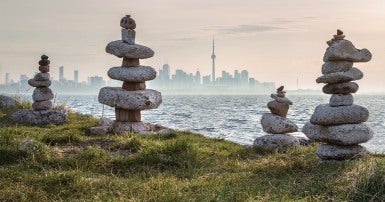 Unions have not always been places where Indigenous people felt welcomed or supported to fight for their rights.
"Let's talk about myself, as an Indigenous woman, bringing up harassment to our local union years ago," remembers Debra Merrier, diversity vice-president for Indigenous workers on CUPE's National Executive Board. "What they said then was: 'Isn't it part of your culture?' This is unconscious bias! This is racism! Situations like this were put under the rug and unions didn't want to deal with them, they simply didn't know how to."
Many Indigenous CUPE members are carrying the weight of colonial trauma, including surviving the residential school system, the 60's scoop, or being an intergenerational survivor of these systems. As victims of racism, harassment, or judgmental comments, Indigenous workers were seldom being heard and often feared of losing their job.
In order to support Indigenous members and take action towards reconciliation, CUPE has just launched its new guide Truth and reconciliation: CUPE taking action through collective bargaining. It is the duty of all unions to begin repairing the relationship with Indigenous people, and this guide is an essential resource for CUPE local unions, bargaining committees, members, CUPE staff, and other activists.
"Today, we need to build these relationships, because our trust is broken due to everything in our past," Merrier explains. "Being Indigenous, we still live it every day. So, having this guide documenting practices through CUPE is a good start. It is a practice that we needed to have and it will be successful if all unions from coast to coast get involved and educated on truth and reconciliation," she says.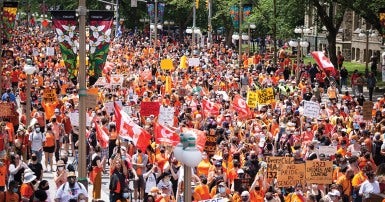 Indigenous members want the same things as non-Indigenous members: decent wages and working conditions, and the right to be treated fairly and with dignity in the workplace. CUPE's guide provides guidance and multiple examples in negotiating contract language that integrates Indigenous members' needs and culture, assuring that everybody has equal opportunities to work.
"We go back to where we come from, to our education and to our culture. Not all Indigenous people meet the criteria of going to college or university, but we are smart, we have skills and life experiences. Not everybody has a mom and dad, but we have aunties and uncles and our elders who are our families. We need to take down these barriers," observes Merrier.
"Indigenous people deserve to be successful, and to be what we want to be: a social worker, a lawyer, a teacher. We need that equality in the workforce. It is time to walk the talk," insists Debra Merrier, CUPE national diversity vice-president.
CUPE's guide also encourages unions to ensure there are Indigenous members in union positions and on committees, including bargaining committees. According to Merrier, Indigenous women in particular often overlook the opportunity to get involved in their union or in bargaining, as their main focus is taking care of their family.
"In my district, 90 per cent of the members are women. Yet, the only way that we would get involved is if there is harassment – then we are forced to go see the union, while not really understanding it," Merrier says. "Truth and reconciliation is about telling the truth and getting involved not once in a while, but every day. Come to us, talk to us, ask us to participate."
Even if a local may not have identified any Indigenous members, CUPE still recommends that the union move forward on reconciliation initiatives. Building relationships with Indigenous workers is part of building a strong union. 
---
About Debra Merrier 
Debra Merrier is Cree, originally from Grouard, Alberta. She has worked as an Indigenous youth care worker since 1996 and she has been an active member of CUPE 728 in Surrey, British Columbia.
She has served in many roles within her local, she is diversity vice-president for Indigenous workers at CUPE BC and on CUPE's National Executive Board.
She has dedicated herself to empowering Indigenous Peoples in Canada, fighting for justice for missing and murdered Indigenous women and girls, and many initiatives including the Truth and Reconciliation Commission.
Get your copy of CUPE's guide 
CUPE is committed to ensuring that locals have access to resources that support the union in their reconciliation work.
One of the ways that CUPE locals can support reconciliation is by bargaining language into collective agreements that supports Indigenous workers. This is a resource for those who want to put reconciliation into action at the bargaining table.
Download the guide or order free printed copies for your local.