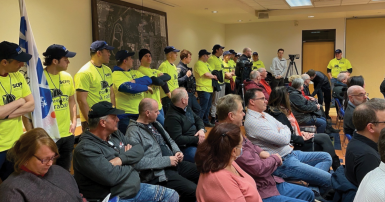 Working relations between the Town of Blainville and its firefighters continue to deteriorate. Last night, many of them demonstrated at the town council to denounce the employer's close-mindedness to its employees' legitimate demands.
​About 40 firefighters have been without a contract since December 31, 2019. Negotiations have been arduous, and the members massively turned down the tentative agreement the parties reached in November 2022. In addition, CUPE's offer made on January 25 were also rejected by the town.
A major sticking point includes wage catch-up in comparison with firefighters in comparable municipalities and with other town employees.
Their presence at the town council was also intended to mark the start of demonstrations that employees will be exercising in the coming weeks. The latter were wearing fluorescent sweaters and caps sporting the union's message.
Negotiations are at a standstill, and the union is awaiting the appointment of a mediator to resolve the impasse.