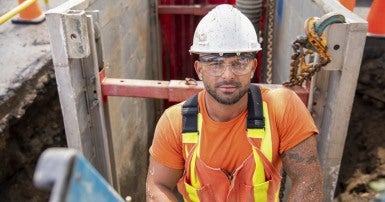 The union says that it will advocate for better services and workers' rights as Conservatives proceed with dissolution of Peel Region
At a time when the people of Ontario are concerned about an affordability crisis, it's hard to understand why the Ford Conservatives are prioritizing municipal restructuring, says the Canadian Union of Public Employees.
"As elsewhere in Ontario, residents in Peel care about the government's impact on the quality of their lives," says Fred Hahn, President of CUPE Ontario. "People care about affordable housing, they care about protecting public healthcare, they care about the quality of public transit in their cities. They don't care about what level of government is providing services."
Hahn says that as the province moves ahead with restructuring, the union will work with its allies to ensure that Peel residents continue to access quality public services provided by public sector workers and thwart any attempts towards privatization.
Salil Arya, the president of CUPE 966, which represents 2,000 members employed by Peel Region, says he is worried that workers were not factored into the decision to dissolve the region, at a time when investments in workers (and by extension services) are essential.
"Peel residents need better and more effective delivery of public services, not less," he says, citing the example of precarious workers in Peel long-term care homes affecting quality of care for seniors. "It's the perfect example of workers being left out of the conversation. And without workers, you can't provide services."
Hahn notes that politicians been focused too heavily on taxation when discussing the break-up of Peel, without addressing the complementary piece on quality of services.
"Politicians like to preach the gospel of lower taxes without explaining how that impacts people," he says. "No one wants to pay for healthcare with their credit card. Similarly, no one wants a lower tax bill at the expense of poor road maintenance, or not having an ambulance arrive in time."
Hahn and Arya say that workers must have a seat at the table when the province appoints a transition board to oversee the dissolution process.  
"Ford likes to say that he respects front-line workers. If that's the case, he should appoint union representatives to the transition board," Hahn says. "It's workers who provide the services that Peel residents rely on, from waste collection and infrastructure maintenance to the delivery of social services. And they must have a say in how these services are managed in the future."
About CUPE in Peel Region
CUPE represents about 4,000 members employed by the Region of Peel and the lower-tier municipalities who provide a broad range of services including long-term care, accessible transit, public health, human services, public works and infrastructure.